Donations
Making it easy for you to make a difference!
Giving to missions has never been more convenient, or more secure! Use any of the following safe and easy options to make a contribution to SELAH INTERNATIONAL COUNSELING MINISTRIES through BIMI (Baptist International Missions, Inc.).
Give online through PayPal (Major Credit Cards)
Online Giving/Paypal Instructions
By clicking the donate button you will go to PayPal's website where you can utilize a secure online payment network to make a donation with a credit card. All you need is a Major credit card and a couple of minutes. Your personal information is secure, and will not be shared with anyone. You will be able to give instructions concerning your gift once you log in to your PayPal account. PLEASE specify that the donation is for Chris Phillips (#1117), SICM. You will need to send a follow-up email to Ken Fink to give any instructions/designations concerning your gift. PayPal Charges BIMI 2.9% plus $0.30 for each credit card transaction which will be passed on to SICM. You can offset this by increasing your donation by 3%.
Choose Giving tab
Choose Give online
Click Donate button
You will need to enter any amount and choose between PayPal and credit or debit card as the method of donating.
You will see a button with "CHRIS PHILLIPS."
Follow instructions on form to complete transaction.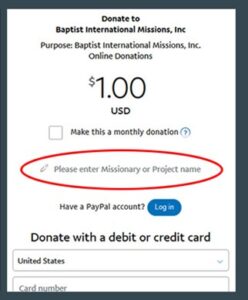 Give by phone (MasterCard, Visa)
Giving by Phone Instructions
Would you like talk to a real, live person? You can also give with a credit card by telephone. Pick up the phone and call 1-423-344-5050 and tell the receptionist that you want to make a donation by credit card. Please specify that your donation is for "Chris Phillips with Selah International, #1117."
Giving by Mail Instructions
Send your check payable to BIMI, not to Selah International, as early as possible in the month. On the MEMO of the check, please write "Chris Phillips, #1117."
Mail it to:
Baptist International Missions, Inc. (BIMI)
Attn: Accounts Receivable
P.O. Box 9
Harrison, TN 37341
Automatic monthly Giving (ACH Debit)
Automatic Monthly Giving Instructions
Give an automatic monthly contribution from your checking or saving account.
We are glad to now offer you the convenience of check-free giving for your regular support for Chris Phillips, SICM #1117. ACH Debit allows you to authorize BIMI to withdraw your monthly support directly from your checking or savings accounts. You will save time, postage, and the expense of writing checks. Monthly withdrawals will be made from your account until you notify us of a change. You may discontinue the program at any time.
To start the ACH Debit process, email Ken Fink (View Email Address) requesting the ACH Debit Authorization Form. Please put ACH Debit in the subject line and indicate that your support is for Chris Phillips, #1117.