As spring weather approaches, refreshing rain brings life to green, lush grass and fragrant colorful blooms. The changing weather conditions invite people to leave their warm winter shelter and enjoy the warmth of the sun on their face once again. Outdoor activities will once again be enjoyed. As the earth sheds its winter coat and ushers in a revival of growth, spring always feels like a fresh start. 
We too can experience in our spiritual life a need for a fresh start. We can grow weary from trials, heavy from burdens, apathetic to needs of others. We may feel dried up by the constant outpouring of ourselves into the lives of others. We may feel drained by our trials and suffering, overwhelmed by afflictions and infirmities, and depleted of all nourishment to sustain and maintain a vibrant walk with the Lord. Just as God created our beautiful world to experience a change in seasons, we too experience changing seasons of life that can bring new experiences and challenges. 
Refreshing comes to a weary soul when we seek out the Giver and Sustainer of Life. This Psalm directs us to our Shepherd, who knows and understands our needs better than anyone. Your loving Shepherd is in your presence. He cares for you, makes provision, insists you rest, bestows peace, and heals all wounds and broken hearts. As your friend, He promises comfort and protection, and as your heavenly Father, He is your hope in an eternal home.
At times I experience a longing to spend uninterrupted time with the Lord alone, but struggle to make the time to do so sufficiently. Although I benefit from my many hours of studying the Bible and preparing for counseling or writing devotionals, but that time is spent in preparation for others. There are times when I miss personal communion with the Lord and being still to hear God speak to me through His Word. Like many, who are struggling with being unsettled and restless about many things going on in our world, I need to put God at the center of my thoughts and life, and to seek and cling to my Shepherd. I need Him to fill and strengthen me once again.
Verse 5 of our text has been refreshment to my thirsty soul, 
"Thou prepares a table before me in the presence of mine enemies: thou annointest my head with oil; my cup runneth over."
This is a picture of the host of a banquet not just extending hospitality by inviting you in and serving you a meal but lavishing upon you His provision and compassion. You are treated as royalty with the giving of luxurious oil meant for your refreshing, gladdening the heart. His love for you as His invited guest and friend overflows your large cup as it rejuvenates and satisfies your desolate soul. Your filling is complete in Him.
It is good to know that Christ will never grow weary of your neediness. God's Word will not dry up. The Holy Spirit will never be done with you while you walk this earth, and God will continue to be a friend that loves you at all times.
When we accept the Lord's beckoning to come and be filled by His abundant provision, we are blessed beyond measure by the Lord's promises as seen in just this one verse:
He is thinking of me  

He knows what is best for me 

He wants to spend time with me

He knows and provides for my every need 

He insists and provides a place of rest 

He gives me more than I will ever need

He guards and protects me 

He considers me a friend 

He provides an example for me 
At times we need to invite God to renew our weary and withered souls. Welcome His insight and accept His reproof in order to mold us into the image of His Son, Jesus Christ. This spring can be a fresh start for you. We need our cups to be overflowing so that we can pour more time, more encouragement, more counsel, more investment, and more attention into the needs of others. We cannot give what we do not possess. Preaching on Psalm 23, Charles Spurgeon encouraged his listeners with these words: 
"May we live in the daily enjoyment of this blessing, receiving a fresh anointing for every day's duties."
There is an overabundance of people hurting right now. We do not have to look far to find someone who needs to know our great Shepherd and experience the provision only He can offer in this needy world.  Our ministry to others should be an outpouring of the inward filling of the Holy Spirit. We should all be willing to be a testimony of God's love and be ready to encourage and comfort others with what God has so graciously and lavishly bestowed upon us.  Let these words be an encouragement to you today, 
"Let the Word of Christ dwell in you richly in all wisdom; teaching and admonishing one another in psalms and hymns and spiritual songs, singing with grace in your hearts to the Lord. And whatsoever ye do in word or deed, do all in the name of the Lord Jesus, giving thanks to God and the Father by him" (Col.3:16-17).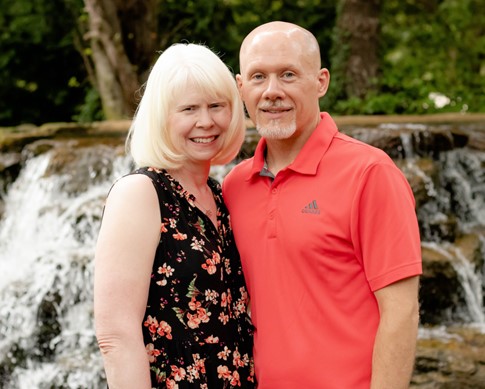 Kim Shadday
Understanding the need for women to seek trusted Biblical counsel rather than suffering in silence, and from her own personal experiences, Kim submitted to the Lord's leading to become a Biblical counselor. She has a bachelor's degree from Indiana University in Social work (1995), a certification from ACBC (2011), as well as a master's degree from Maranatha Baptist University in Biblical counseling (2019). She is committed, through counseling, to help women understand the importance of good theology as it relates to all of life's issues.
Kim has been married and serving alongside her husband at Crosspointe Baptist Church for over 25 years. They have two sons, Bryce and Austyn, who are the delight of Kim's heart. Now that they have flown the coop, she finds herself with more time to enjoy a cup of coffee, a good book, and long walks and bike rides with her loving husband.