"In every thing give thanks: for this is the will of God in Christ Jesus concerning you."
 1 Thessalonians 5:18
"Thank you!" I remember those words finally coming out of my daughter's mouth when she was just over one year old after weeks of her mother's constant reinforcement. We were excited, but mostly because she would now have an alternative to the word "mine!" or "more!" in the church nursery. Certainly, disciple-making parents who are raising young children will seek to instill the habit of expressing thanks into the hearts of their little ones. However, it is my belief that as American Christians and ministry leaders, it can be very easy to talk about giving thanks or even to portray thankfulness with our lips, without actually internalizing a truly grateful spirit in our hearts.  In 1 Thessalonians 5, Paul says that it is God's will for us to give thanks "in everything…" This does not mean that we are to give thanks FOR everything, but rather that in every circumstance, we are dominated by an attitude of thanksgiving to our Lord Jesus. So, what is thankfulness for a believer in Christ? I love what Jerry Bridges says in His book, The Practice of Godliness, on this topic:
"Thankfulness to God is a recognition that God in His goodness and faithfulness has provided for us and cared for us, both physically and spiritually. It is a recognition that we are totally dependent upon Him; that all we are and have comes from God." –Jerry Bridges
Here are 3 practical ways for you, a Christ-follower, to maintain a heart of thanksgiving and dependence on Christ through every season of the Christian life.
Meditate on the presence of Jesus in your life.
The greatest gift we, as Christ-followers have been given, is not wealth, fame, ministry, or even heaven. It is the unwavering presence of the risen Christ in our lives. He will NEVER leave us! In fact, in Hebrews 13:5 we are reminded that the reason we can remain content in every circumstance of life is the fact that we have Jesus always:
"Let your conversation be without covetousness; and be content with such things as ye have: for he hath said, I will never leave thee, nor forsake thee."
Believer, ministry leader, meditate today on this truth: I can maintain a heart of thanksgiving despite difficult relationships, church struggles, ministry failures, wayward children, and physical trials because Jesus will never make me endure these circumstances alone. What a promise!
Saturate your prayers with praise to your great God.
One of the best ways for a believer to cultivate a heart of thanksgiving is to spend time in prayer simply praising God. So many times, we, as the naturally selfish people we are, consume our prayer times with requesting instead of thanking. Instead of praying, "Lord, today give me…", pray these words: "Lord, I praise you today because of…" After all, isn't this the primary reason we pray in the first place? Prayer is not primarily about asking God to meet my demands, but rather for me to express my gratitude for who He is and what He has done for me. Listen to the words of the Psalmist as he praised the Lord:
"Make a joyful noise unto the LORD, all ye lands. Serve the LORD with gladness: come before his presence with singing. Know ye that the LORD he is God: it is he that hath made us, and not we ourselves; we are his people, and the sheep of his pasture. Enter into his gates with thanksgiving, and into his courts with praise: be thankful unto him, and bless his name. For the LORD is good; his mercy is everlasting; and his truth endureth to all generations." Psalm 100
Consider taking some time over the next few days to intentionally praise your God. Read a Psalm that is completely focused on the character of God, and praise Him based on His attributes. Keep praising Him until you feel you have run out of reasons to praise Him…and then praise Him some more. I can tell you from personal experience that this spiritual discipline will turn a heart of discontentment, anxiety, and selfishness into a heart that is overflowing with thanksgiving to God. Try it!
Seek out ways to be intentionally selfless to others.
For many, even Christians, this time of year is a time to accumulate possessions, pleasure, and personal happiness.  Oh, we would never say that, but the moment someone cuts the line in front of us during Black Friday shopping, or the moment one of our kids spills their drink in the middle of Thanksgiving dinner, or when a marital conflict arises in the middle of our "peaceful" vacation, we discover quite a bit about our selfish nature.  Jesus made it very clear that the essence of discipleship is a genuine denial of self.
"And he said to them all, If any man will come after me, let him deny himself, and take up his cross daily, and follow me. 24 For whosoever will save his life shall lose it: but whosoever will lose his life for my sake, the same shall save it." Luke 9:23-24
Jesus did not just command this lifestyle. He embodied it in His life, death, and resurrection.  As you have time to reflect during this season of thanksgiving, ask yourself, "How often do I truly deny myself and my desires for the purpose of following Christ and serving others?" If the answer, like mine, would be very little, consider looking for ways to show your spouse, children, church members, neighbors, and community that you care about them. As you begin to take your eyes off of yourself, you will find that you have real joy, real contentment, and a heart abounding with thanksgiving to the Lord.
May our good and gracious God, who is rich in mercy, bless your life, family, and ministry as you seek to serve Him out of a grateful heart this thanksgiving season! As you enjoy the holiday season with family and friends, continually remember the words of Paul under the inspiration of the Holy Spirit:
 "In every thing give thanks: for this is the will of God in Christ Jesus concerning you." 1 Thess. 5:18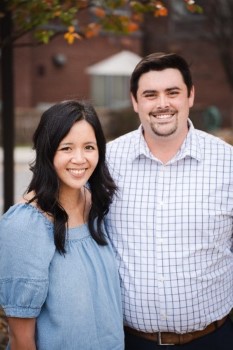 Zach Phillips
Youth and Children's Pastor, Lakeside Baptist Church
Zach is the Youth and Children's Pastor at Lakeside Baptist Church in Clearwater, SC, where he and his wife Toni have served for the last 6 years. God has blessed Zach & Toni with two beautiful children, Maelyn & James. Zach and Toni are both graduates of West Coast Baptist College. When he isn't preaching or ministering to the youth of Lakeside, Zach enjoys spending time with family, playing golf, and watching Tar Heel basketball.