Being thankful on Thanksgiving Day is relatively easy. Continuing to be thankful is a challenge. Kim Shadday shares insights and encouragement to help motivate us to develop the habit of giving thanks. Kim has been a blessing to many hurting women over the last 25 years by providing them with compassionate biblical counseling. She is ACBC certified and is an associate counselor with Selah International. Thank you, Kim, for your ministry!
Thanksgiving Continued
by Kim Shadday
"I will praise the name of God with a song, and will magnify him with thanksgiving." (Psalm 69:30)
The turkey has been gobbled up, and the pumpkin pie has been devoured. All the family has gone home, and the kitchen has been cleaned. You are resting comfortably on your couch mulling over the day's events, thankful for God's many blessings. What a wonderful day to dedicate to the Lord for His generous and gracious provisions! Tomorrow is a new day.
Unfortunately, for many of us a new day is, in actuality, just an old day. It's back to work as the busyness of life resumes and gains momentum as we race toward the Christmas season. There is Christmas shopping, decorating, and baking to do. We commence planning Christmas events and gatherings. The kids' sports schedules restart, school continues, and preparations for Christmas concerts and parties can immediately erase the previous day's deliberate dedication to thanksgiving.
Thanksgiving seems insignificant as compared to the upcoming Christmas holiday. However, Thanksgiving is not just a holiday. It is a lifestyle. Beginning in the Old Testament, a voluntary sacrifice of peace/thanksgiving offerings were given followed by a shared meal in recognition and thanksgiving to God for His provision. A sacrifice is an act of giving up something valued for the sake of something else regarded as more important or worthy. The echo of thanksgiving being made to God is a sacrifice we see throughout Scripture and is prophetic of the ultimate sacrifice that was made by Jesus Christ on the Cross (Ps. 50:14; 95:2; 100:4; 107:22; 116:17; Amos 4:5; Jonah 2:92; Heb. 13:15).
Thanksgiving is a deliberate and intentional act without thought of return. True, the past couple of years have been full of disappointments, tragedies, inconveniences, trials, a lot of discouragement, suffering and depression. Despite the condition of our nation and world, we have so much for which to be thankful. It is time to stop being so focused on all the problems our "new normal" has created and begin or renew our focus on God's goodness and provision in our lives. Andrew Murray says it this way:
"Thanksgiving will draw our heart out to God and keep us engaged with Him. It will take our attention from ourselves and give the Spirit room in our hearts."
I suggest starting a blessings list or journal to write down all the things, circumstances, and people for which you are grateful to God. I have provided a "THANKSGIVING" list to help get you started.
T – Truth – "Sanctify them through thy truth: thy word is truth." (John 17:17)
H – Hope – "Therefore being justified by faith, we have peace with God through our Lord Jesus Christ: By whom also we have access by faith into this grace wherein we stand, and rejoice in hope of the glory of God." (Romans 5:1–2)
A – Answered Prayer – "But verily God hath heard me; he hath attended to the voice of my prayer." (Psalm 66:19)
N – New Life – "Therefore we are buried with him by baptism into death: that like as Christ was raised up from the dead by the glory of the Father, even so we also should walk in newness of life." (Romans 6:4)
K – Knowledge – "The fear of the LORD is the beginning of knowledge: but fools despise wisdom and instruction." (Proverbs 1:7)
S – Salvation & Sanctification – "But we are bound to give thanks alway to God for you, brethren beloved of the Lord, because God hath from the beginning chosen you to salvation through sanctification of the Spirit and belief of the truth:" (2 Thessalonians 2:13)
G – Grace – "For the LORD God is a sun and shield: the LORD will give grace and glory: no good thing will he withhold from them that walk uprightly." (Psalm 84:11)
I – Instruction – "All scripture is given by inspiration of God, and is profitable for doctrine, for reproof, for correction, for instruction in righteousness: That the man of God may be perfect, throughly furnished unto all good works." (2 Timothy 3:16–17)
V – Victory – "For whatsoever is born of God overcometh the world: and this is the victory that overcometh the world, even our faith." (1 John 5:4)
I – Immutability of God – "For I am the LORD, I change not; therefore ye sons of Jacob are not consumed." (Malachi 3:6)
N – Nature – "The heavens declare the glory of God; and the firmament sheweth his handywork." (Psalm 19:1)
G – God's Glory – "Now unto the King eternal, immortal, invisible, the only wise God, be honour and glory for ever and ever. Amen." (1 Timothy 1:17)
We must remember that it is God's will for us to give thanks, and if God willed it, it must be necessary for our good and for His glory.
"In every thing give thanks: for this is the will of God in Christ Jesus concerning you." (1 Thess. 5:18)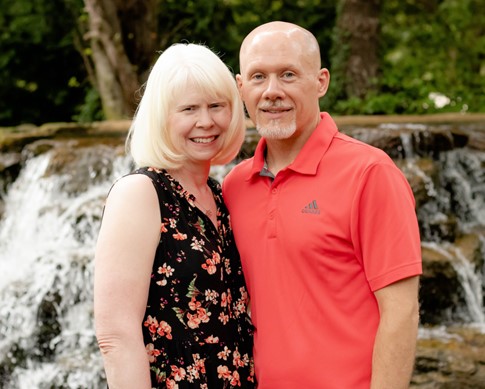 Kim Shadday
Understanding the need for women to seek trusted Biblical counsel rather than suffering in silence, and from her own personal experiences, Kim submitted to the Lord's leading to become a Biblical counselor. She has a bachelor's degree from Indiana University in Social work (1995), a certification from ACBC (2011), as well as a master's degree from Maranatha Baptist University in Biblical counseling (2019). She is committed, through counseling, to help women understand the importance of good theology as it relates to all of life's issues.
Kim has been married and serving alongside her husband at Crosspointe Baptist Church for over 25 years. They have two sons, Bryce and Austyn, who are the delight of Kim's heart. Now that they have flown the coop, she finds herself with more time to enjoy a cup of coffee, a good book, and long walks and bike rides with her loving husband.