Parenting is tough. It is physically, emotionally, mentally, and spiritually demanding. From diapers to dating, from choosing cribs to choosing colleges, the marathon journey that is parenthood is all at once exhilarating and exhausting.
Between laundry, homework, meals, extracurriculars, and toys, Christian parents can often find themselves overwhelmed with the mere thought of teaching their children about God and pointing them toward the Gospel. It seems like yet another thing to add to the list of "to-dos;" after all, isn't that what Sunday school and youth groups are for? Dear struggling parent, the Bible is clear that your children are to learn from you about Christ (Deut 4, 6, 11; Eph 6:4). What a humbling, yet comforting thought that God has chosen you to be the parent to your child– you are His chosen vessel, and He will give you grace sufficient for the task! (2 Cor 12:9)
And these words, which I command thee this day, shall be in thine heart. And thou shalt teach them diligently unto thy children, and shalt talk of them when thou sittest in thine house, and when thou walkest by the way, and when thou liest down, and when thou risest up. (Deuteronomy 6:6-7)
How do we teach our children about God? Dear exhausted parent, it doesn't have to be pinterest-perfect or overwhelming; it can be simple, but it must be intentional. You do not have to be complex in your approach, but you must do something! Take Easter, for example. Go to any store and you will find special treats, and themed decorations. Pastel colors are literally threaded through every single aisle. Our homes can be this way too– threaded through with Christ everywhere you turn. Have simple but intentional conversations and activities woven throughout the laundry, homework, meals, extracurriculars, and toys!
In our home, we try to be simple and intentional in reaching our children in these 3 areas:
Within their hearts – We use the spoken word and the sung word to penetrate their hearts and minds, to prompt them to think and meditate on the truths of Christ. Some days, this looks like doing a Bible study with our children. Some days, we speak the Word to them by listening to a chapter of the Bible being narrated on our phones. Other times, we have time to do a short devotional book with our children. Often, we will play Scripture-based songs in the car, or while we prepare dinner or do chores. Gospel intentionality does not need to interrupt your schedule–it is simply integrated with your routine.
As we approach resurrection day, we may focus and prepare their hearts by reading passages about the crucifixion and resurrection and selecting one or two appropriate songs that we will play daily in our home.
Within our home – While we cannot force our children to love Christ, we can influence them by cultivating homes in which we have transparent and frequent conversations about faith, Christ, and the Christian life. Discipling our children often means frequently asking our children questions about the Bible, discussing both the easy and hard parts of the Christian life, and spending time listening to and discussing their own fears, doubts, and questions. These conversations rarely come at convenient times but must be embraced as they organically take place. We also strive to make "learning about God" fun by incorporating "teaching" into simple, special activities, crafts, and snacks.
As we approach resurrection day, we may take time at the dinner table to ask our children what they know about Easter, what they think it means, and why it's important. In years past, we have incorporated activities such as making resurrection rolls, painting a stained-glass cross and making a resurrection garden from twigs and pebbles. All these activities took little time, used ingredients we already had, and required little planning.
Without our home – It is vitally important to us to teach our children to look beyond themselves into the needs of others. We desire them to be proclaimers of the Gospel and disciple-makers. For our family, this looks like pursuing and cultivating friendships with our neighbors, whether through gifts from our garden, praying for them, visits, or simply being outside and starting conversations. For our individual children, this looks like challenging them (and ourselves!) to speak to someone new at a music class or another community activity.
Holidays are a great way to reach out without your home! Each holiday, we try to prepare a simple, frugal gift (eg. candy, a homemade treat, a bottle of hand sanitizer) for our neighbors. We focus on the same 10-12 houses around us, and hand-deliver the gifts as a family to afford us the opportunity to have conversations and further develop those relationships.
Weary parent, take heart! While pointing your child's heart to God and His Gospel often seems like an overwhelming and impossible task, biblical parenting is really nothing more than living the Christian life with your children–including them in your journey of following Christ.
Tedd Tripp, in Shepherding a Child's Heart, points out that parenting "is not simply [giving] direction, but direction in which there is self-disclosure and sharing. Values and spirituality are not simply taught but caught." Focus on following Christ whole-heartedly and your children will see an example to follow that you could never fully teach in words. Simple, Bible-based intentionality within and without your home will go a long way in pointing your children to the God Who infinitely loves and cares for them.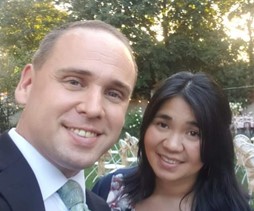 James and Deb Flowers
Senior Pastor, Hudson View Baptist Church
James and Deb Flowers have been married since 2009 and are parents to 3 young children. They live in Yonkers, NY, where James has been the senior pastor of Hudson View Baptist Church since December of 2013. James holds a BA in Humanities and an MA in Pastoral Studies from Bob Jones University (BJU). Prior to becoming a senior pastor, he served as an associate pastor in Charleston, SC for six and a half years. James is passionate about discipleship and biblical counseling. Deb holds a BS in Pre-Medicine from BJU, an MS in Biomedical Sciences from the Mt. Sinai School of Medicine, and an MSPAS from Medical University of South Carolina. She has experience in Genetics research and is a certified Physician Assistant. Deb speaks to and writes devotionals for women and children. Because they are convinced of the fact that God has provided man with all things that that pertain unto life and godliness, through the knowledge of Him that hath called us to glory and virtue (2 Peter 1:3), both James and Deb are currently pursuing certification through the Association of Certified Biblical Counselors (ACBC).