Summertime is upon us! It is a time for pool parties, camps, barbeques, and smores. Perhaps you have grand plans for this summer, or perhaps you just need to take a break from the hustle and bustle. Put your mind at ease. This is not another blog with a list of crafts or activities for you to do. Let's take a moment to reevaluate what we hope to accomplish this summer. What if, instead of chasing a bucket list, we determined to establish new habits that will last far beyond the summer months? What routines could we put into place that will cultivate a dependence upon God within our home? One of the best things about summer is that we have more time to be together. It is also a perfect opportunity to enjoy the presence of God in your home and His beauty and goodness will win your children's hearts just as it has won yours. Having a gospel-centered summer is just as much for your benefit as it is for the benefit of your children.
Our habits and our daily rhythms reveal what we esteem as important.
In a practical sense, if you truly want to follow Jesus then you will. But what habits do you need to change? Where could you start? Here are a few ideas!
Make family devotions one of your daily routines.
Family devotions can seem a bit elusive when you spend your days changing diapers or being a chauffeur for various sports. How can we get our children to sit still for a time around the Word when just getting them to take a bath is a huge ordeal? The good news is that you don't really need to fit anything new into your schedule! Just make devotions a part of something that you are already doing together. This is exactly how God instructed the Israelites to teach their children His Law.
"And thou shalt teach them diligently unto thy children, and shalt talk of them when thou sittest in thine house, and when thou walkest by the way, and when thou liest down, and when thou risest up." (Deuteronomy 6:7)
God wanted His people to weave the Scriptures into the fabric of their everyday lives. For example, we have found it helpful to have devotions during dinner time. Having dinner together is something that we do often. After we finish eating, our toddler enjoys a "special treat" (a gummy vitamin) while we read a short lesson from a Bible story book. We keep our devotional books and memory verse cards on the dining room table to serve as a reminder that we need God's Word in the same way that we need food. As believers, the more we consume God's Word, the more we will crave it. How can you connect the visible to the invisible? Small connections can have big impacts down the road. This is not the only way to do family devotions, but it works for us!
Prioritize praying together.
We would all agree that prayer is essential, yet we seem to not truly value it in practice. The temptation to neglect communion with God can be magnified in parenthood. We are simply too busy to pray. This season of life does require so much effort and energy.
There will be many mornings when our quiet time with the Lord is interrupted, but we must remember that He is just as accessible at the playground as He is in our prayer closet.
I need Jesus. My children need Jesus. When the tension is rising, I will often stop and ask my toddler to pray with me. She may not fully understand what I am doing, but she can feel that it is a sacred moment; we are in the presence of God and Christ is interceding on our behalf. Encourage your children to run to God through continual intercession. Encourage them to thank Him for the little things. It is also helpful to incorporate prayer into your routines. We have made it a habit to pray together every night before bed. Sometimes the prayers are short and sweet. If the girls are calm, we will take more time to talk to the Lord and pray specifically. Just a few weeks ago, we added in praying for the salvation of our neighbors and their families each night. It has helped us to keep our hearts focused on the true mission in life: to be disciples and to make disciples.
Invest in Gospel-centered resources that are on your child's level.
One of the wonderful things about children is that they are keenly aware of the senses that God has given them. As adults, we often coast through life and forget to savor things as we were created to do. Children need to hear, see, taste, and touch. They cannot ignore their senses. The toys, books, shows, and music that your child is absorbing will have a profound impact on them. It makes sense to protect our children from harmful things, but are we intentionally sowing good seeds? There are so many theologically sound resources to choose from! If your child is older, consider investing in chapter books, biographies or Christian audio dramas. If you are still up to your ears in diapers and cheerios, invest in Bible picture books. Harness the power of music by playing Scripture lullabies as they drift off to sleep or worship with your children on your way to church and school. Turn on an audio Bible app while the kids color and meditate on a passage of Scripture together. As you adorn your home with the gospel, you will find that a beautiful aroma starts to fill each room. You may not see an immediate change in your children, but you will certainly see a change in your own heart. There will still be moments of correction and instruction, but you will be rooted and ready.
It is not our mission to give you a legalistic checklist or to convince you that your worth is dependent upon how diligently you parent. Your worth and value is fixed in Christ.
Our intention is to invite you to join God in the work that He is already doing in your children's lives. Every moment with our children is a gift. The gospel can take a mundane summer and give it eternal value. How will your children see Christ in you this summer? Talk with your spouse and get creative! Use sidewalk chalk to work on scripture memory. Play Bible charades on pizza night. Pray for missionaries around the breakfast table. What small, lasting changes can you make in your home so that the gospel can flourish? By God's grace, let's be intentional this summer and make the most of this opportunity with our children.
"…shewing to the generation to come the praises of the LORD, and his strength, and his wonderful works that he hath done…that they might set their hope in God…" (Psalm 78:4,7)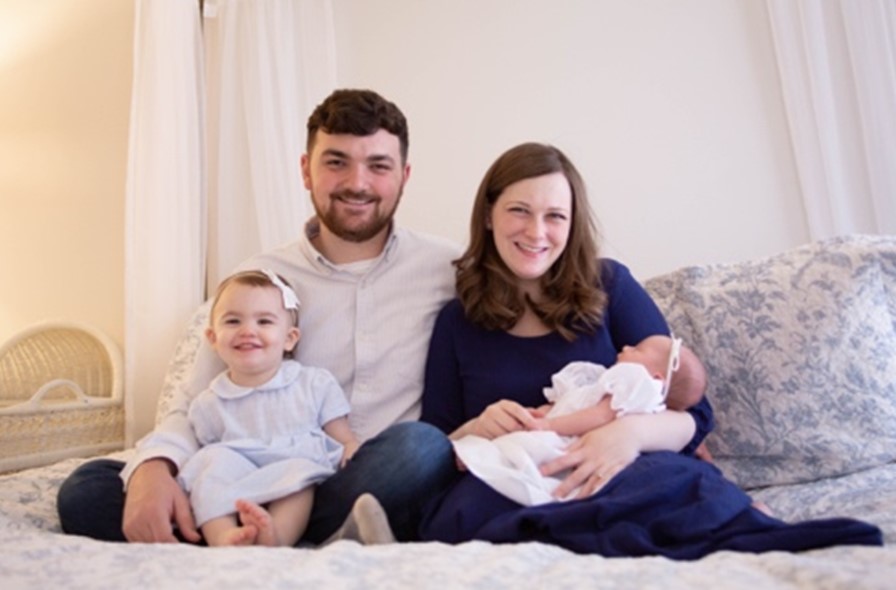 Colton and Aly Gideons
Colton and Aly Gideons live in Columbia, South Carolina with their two girls, Audrey and Annie. They are passionate about missions and believe the Lord is leading them to serve overseas after gaining ministry experience while serving at Grace Baptist Church. Colton is currently pursuing a Masters of Divinity through Southeastern Baptist Theological Seminary and plans to graduate in December. Aly works from home and writes for LifeWay Kids. Together, they are passionate about knowing Christ and making Him known to others.